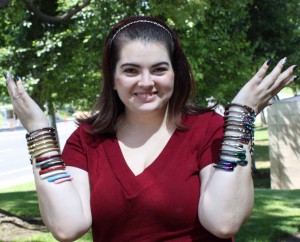 Irvine is just a short drive away for Lacey Jessamine of Anaheim, CA, who recently came in to add to her collection of Custom Crystal Clipas. Lacey's purchased more than 130 Clipas over the last 3 years—many of which she's given away to family and friends. Creating something unusual is a fun, interesting process: "I like unique things" says Lacey.
Today, she's here to design 3 more of the sleek, bracelet style purse hangers. She brings in her own Swarovski Crystals (there are plenty on hand to choose from as well) and with a friend's feedback, sets about placing them into 6 chambers on polished silver, gold or hematite Clipa "blanks". Tweezers and a special tray keep the blanks upright so she can mix and match until she's satisfied with the result. Then, the Clipa and crystals are taken to the manufacturing section of the facility to have them set using a proprietary process. A few hours later, after setting, inspecting, testing, polishing and boxing, they'll be shipped to her.
Such specialized service doesn't cost a penny more: Custom Clipas are $39.99 plus tax, the same price as any of the 8 currently offered in the Crystal Clipa Collection. U.S. shipping is complimentary for visitors. With 19 Swarovski Crystals to choose from, 45 million combinations are possible.
Visitors can come to Topcor Monday through Friday, 9 a.m. to 5 p.m., to select and set Swarovski crystals, creating beautiful, useful jewelry for their handbags. Located at 13885 Alton Parkway, Suite A, the building is near The Irvine Spectrum where the 5 and 405 freeways meet. 'Want to play, too? For directions and more information, please call (888) 804-0661.