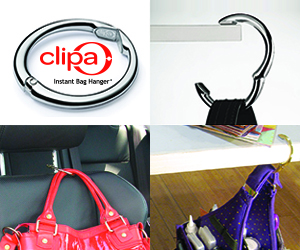 Who doesn't love shiny, useful and fun? And when it's on sale, that's even better! Just think of all the people you may buy for during the year: moms and moms-to-be, teacher's appreciation, a thank you present or hostess gift, winter formal, bride and bridesmaid, graduation, birthdays, Mother's Day, and of course, the holidays. Secret Santa, White Elephant, stocking stuffer…
In 6 popular finishes, every Clipa purse hanger is gift boxed with a colorful photo guide inside. Imagine the places they'll use it all year long: traveling for business or while on vacation, shopping, at concerts, sporting events and movies, in the office to hold lunch bags on cubicle walls, at restaurants. Clipa is guaranteed to hold 33 lbs yet weighs just 1.6 oz. and will never need polishing. It's strong yet elegant. So pretty, it can even be worn as a bracelet. It can be mixed with bangles or charm bracelets and is the perfect gift for the woman who would never dream of putting her bag on the floor where it can pick up germs or worse, be picked up by someone else.
Best of all is how easy and fun it is to use. It stays on the bag strap (so it works in seconds), then automatically slides back onto the bag when finished! Crafters love that Clipa only uses a 1/2″ of space at classes, crops and retreats, freeing up valuable work space. It's ideal for anyone who's gone into a bathroom stall and discovered the hook missing from the back of the door or the working mom who wants the take out to make it home safely (just clip the bags to the passenger seat headrest post with Clipa–dinner will stay upright).
Now, the world's favorite bag hanger bracelet on sale! Now through November 28th 2017, Clipas are only $14.39 each and include a FREE holographic gift bag for each Clipa ordered plus a FREE gift with every order and FREE anywhere in the U.S. – no minimum! For details, click on the image or visit www.clipa.us