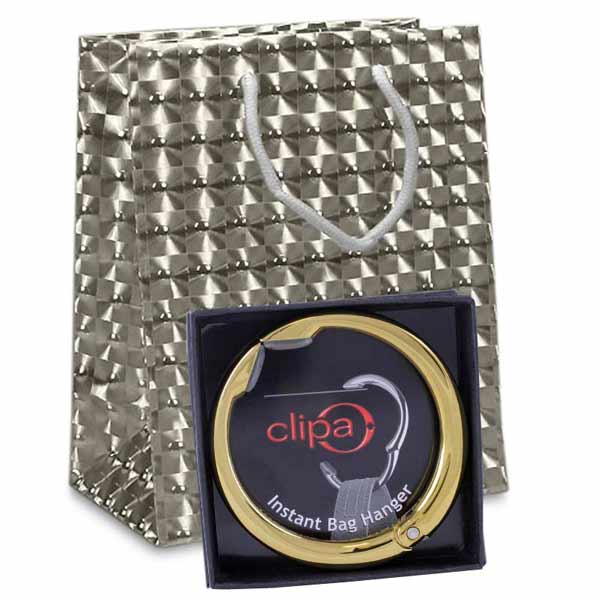 No need to wait for Black Friday: our biggest sale of the year is on NOW and includes:
New, lower prices on ALL Clipa2 Handbag Hangers for a limited time
FREE holographic euro tote gift bags for each Clipa purchased
FREE shipping anywhere in the U.S.
AND, buy any 3, get one black Clipa FREE PLUS FREE USPS Priority Shipping!
No coupon or promo code is needed. Just head to www.clipa.us to see all the finishes. Clipa is designed to coordinate with her handbag. 'Not sure which finish to choose?
If she carries a black purse, our polished hematite or matte hematite would be a good choice.
If she wears alot of silver or her handbag has silver hardware, consider polished silver. Because Clipa can be worn as a bracelet, she can wear it with bangles and charm bracelets on her wrist.
Does she carry a Louis Vuitton bag? Our polished gold model perfectly matches LV bags.
Our matte silver and matte gold finishes are subtle, a great choice for something different.
Each Clipa is gift boxed with a mini brochure inside showing popular ways to use this versatile accessory.
Get your holiday shopping done while enjoying great savings and freebies when you gift the world's #1 bag hanger bracelet!